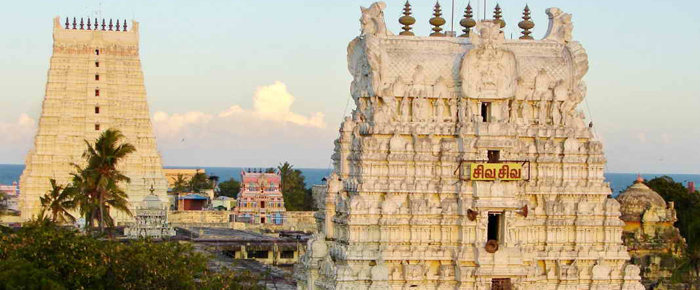 The Ramanathaswamy temple according to the Hindu mythology have acquired this name because of Lord Ram. Lord Ram was a devout worshipper of Lord Shiva. According to the famous legend, after killing Ravaana Lord Ram on his way back to his capital Ayodhya with his consort Goddess Seetha and his brother Laxman stepped on the shores of Rameswaram. As part of his penance, to expiate himself from the crime of killing a Brahmin (Raavana), Lord Rama wanted to offer his prayers to Lord Shiva, but there was no shrine on the island and hence he despatched his biggest follower Lord Hauman to Kailash for bringing an idol of Lord Shiva. It is said that the JyotirLinga present here is that idol of Shiva which Lord Hanuman brought.
Ramanathaswamy Temple Timings :
The temple committee has made the schedule of the worships and pujas available online on their official site, so that the pilgrims can find it easy to go as per their desires. The temple opens for the pilgrims at 5 in the morning and closes down during lunch time for 2 hours between 1 pm to 3 pm. After that it is open till 9 pm. The various pujas take place throughout the day according to the following schedule:-
| | | |
| --- | --- | --- |
| S.no | Pooja | Timing |
| 1) | Palliyarai Deepa Arathana | 05:00 A.M |
| 2) | Spadigalinga Deepa Arathana | 05:10 A.M |
| 3) | Thiruvananthal Deepa Arathana | 05:45 A.M |
| 4) | Vila Pooja | 07:00 A.M |
| 5) | Kalasanthi Pooja | 10:00A.M |
| 6) | Uchikala Pooja | 12:00 NOON |
| 7) | Sayaratcha Pooja | 06:00 P.M |
| 8) | Arthajama Pooja | 08.30 P.M |
| 9) | Palliyarai Pooja | 08:45 P.M |
The Famous Corridor of the Ramanathaswamy Temple :
Apart from the regular worships offered to the deities the temple celebrates many festivals with vigour throughout the year. Numerous pilgrims flock the holy city of Rameshwaram during these times and take part in the festivities. According to the official website of the temple the schedule for the various festivals is as follows :
S.No
                         Festival
                        Beginning
        Ending
 Duration
1
Mahasivarathri (To be seen)
i. Rishaba Vaahana Dharshan
ii. Mahasivarathri Abishekam
iii. Silver Chariot
Mahasashti krishnapatcham Maasi (February, March)
Mahakrishna Amavasai
10 days
2
Vasanthotsavam
Vaikasa Sukkila Sashti Vaikasi (May – June)
Vaisaka Paurnami
10 days
3
Ramalinga Prathishtai
Jeshta Sukkila Suddha Sashti Aani (May – June)
Ashata Paurnami
3 days
4
Thirukkalyanam (To be seen)
i. Rishaba Vaahanam
ii. Silver Chariot
iii. Thabasu Day
iv. Sayanasevai on Golden Pallakku
v. Thirukkalyana Day
Aashada Pagula Krishnashtami (July – August )
Siravana – suddham
17 days
5
Navarathri Festival Dasara (Vijayadasami Day)
Bathrabatha Suddha Sukkila Pradhami Purattaasi (September – October)
Dasami
10 days
6
Kantha Sashti
Aasveeja Suddha Sukkila Aippasi (october – November)
Aasveeja Suddha Sashti
6 days
7
Aarudhira Dharshna
Maarkka Seerisha Sudda Sashti Sadhaya Natchatram Maargazhi (December – January)
Maarkka Seerisha Sudda Paurnami
10 days
How to Reach Rameshwaram ?
Rameshwaram is a town located in Tamil Nadu in the south of India. It has many amazing sights to be seen. Some of these breath-taking sights are Ramanathaswamy Temple, Dhanushkodi Beach, Annai and the Indira Gandhi Road Bridge. The town being a major tourist spot is packed with a loads of hotels helping travellers to relax. Rameshwaram is considered to be one of the holiest pilgrimage destination. Reaching the place is quite easy. It is nested in the Gulf of Munnar with good connectivity by air, water and road.
By Airways :
The pious land is well connected with the major cities of India. Rameshwaram does not have an airport of it's own. The closest airport to Rameshwaram is the domestic airport of Madhurai or Tuticorin. They are situated at a distance of approximately 150 kms from the city. All the major southern cities in proximity to the temple like Chennai, Bangalore etc. are well connected to Madhurai by air.  Pilgrims travelling from abroad can get connecting flights from the International Airport of Chennai to the city of Rameshwaram. Apart from this there are prepaid taxis running from Chennai to Rameshwaram which charge around Rs 3500/-.
Flights : As far as the International Flights are concerned. There are regular flights running to Chennai International Airport. There are flights from the following airlines : Air India, Air Sahara, Jet Airways, Indian Airlines.
The Domestic Flights of the following airlines are running at regular intervals to Madhurai and Chennai as well : Air India, Jet Airways, Indigo Airlines, Go Air, Jet Lite, Air Deccan.
By Railways :
The holy Ramanathaswamy temple is well linked with rail. There is a railway station in Rameshwaram itself which is well connected with Chennai, Madhurai, Coimbatore, Trichy, and other important cities of the country. The famous Indira Bridge connects the mainland of Mandapan with the pious island of Rameshwaram. Rameshwaram Express is the most frequently used train by the pilgrims. It runs from both Chennai and Madhurai to Rameshwaram, other one being Nagercoil Express. On reaching the railway station of Rameshwaram local buses, or cabs can be boarded to reach anywhere around the city.
By Road :
Rameshwaram is well connected by road too. There are private deluxe buses running overnight which connects Rameshwaram with the major southern cities of India including Kanyakumari, Madhurai, Trichy etc. There are bses running from Bangalore and Chennai as well. Rameshwaram being 556km away from Chennai, so it takes approximately 0 hours to reach there via bus. Bangalaore is approximately 600 kms away from the holy city. There are some government buses also which connects the city to other major cities in the periphery. These buses run on a regular basis. The booking for these buses can be done on any bus stand of these major cities or even online too.
Although those travelling with their families are encouraged to travel in cars. The road goes through many picturesque locations and has all the basic amenities on the side of the roads like ATMs, Restaurants, Hotels, and Fuel Pumps etc. making the journey easier.
Accommodation :
Rameshwaram like other urban towns have numerous hotels and motels suiting every class of people. The richest of the rich and even the poorest among the poor can find shelter in the humble abode of god. There are high end hotels as well as the Dharmshalas for the poor. The food and other basic amenities are not very expensive suiting the pilgrims flocking the city throughout the year.